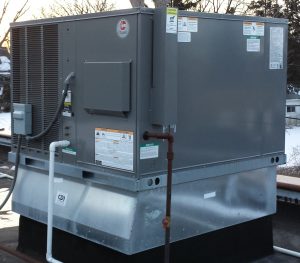 A package unit, also known as a rooftop unit (RTU), is mainly used for commercial buildings, but can be beneficial in certain residential applications.  Rheem package units are reliable, efficient and built to perform.  Offering a wide variety of sizes and features to accommodate many applications.
Features include a tubular heat exchanger and micro channel coils for increased longevity.  Easier to maintain than traditional coils, micro channel coils will have extended life and will enhance performance.  Louvered protection keeps the coil out of direct contact with the elements.
Several features such as a one piece top, protective duct connections, and engineered drain holes help protect the package unit from the harsh environmental changes from season to season.  These are engineered to help manage and flow water away from the unit.
All models are capable of side or bottom air discharge and are available at 14, 15 and 16 SEER. SEER stands for Seasonal Energy Efficiency Rating, meaning the higher the number the more efficient the air conditioning portion of the package unit will be.
16 SEER units come with a variable speed motor for increased comfort and efficiency.  Employing the variable speed motor, the package unit is capable of a dehumidification setting to make your office even more enjoyable by reducing the levels of humidity in the air and eliminating any musty odors.
Rheem package units use direct spark ignition with a remote flame sensor, dependable components found in all Rheem furnaces that ensure many years of safe operation.  For further peace of mind, all of the motors in these units are permanently lubricated.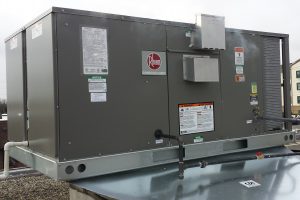 In general, being outside leads to a shorter lifespan for these units, but with proper yearly maintenance the expected lifespan is approximately 15 years.  Units come with a 10 year warranty on the heat exchanger and a 5 year warranty on the compressor.
Increase the efficiency of your rooftop unit even further with an economizer.  Adding an economizer to your package unit helps bring in cool, fresh outside air during milder weather and it can help to increase indoor air quality.