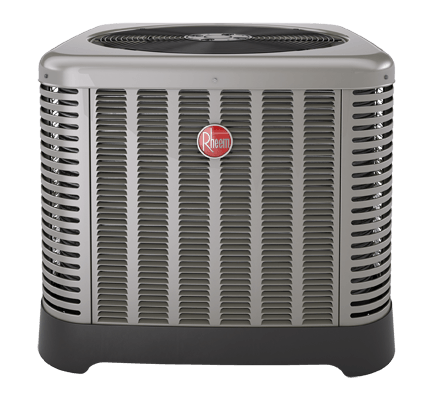 When the temperature starts rising you want an air conditioner that's reliable and efficient.  Rheem air conditioners are top of class when it comes to both.  Featuring scroll compressors, the industry's top compressor, Rheem air conditioners are more than just dependable; they are quiet and economical.
A scroll compressor contains 70% fewer parts than a conventional compressor making it much less likely to fail.  The top grill of Rheem units was designed to maximize airflow and reduce noise.  This helps make these air conditioners some of the quietest on the market.  With an updated exterior these units have curb appeal too.
With the advantage of a single row coil, Rheem air conditioners can be maintained to provide out of the box performance for every cooling season.  The ridged exterior of the cabinet will protect the coil through the most foul weather and the finish will keep it looking new for years to come.
The solid base of these air conditioners is constructed with a UV resistant plastic.  These units disassemble with ease to streamline maintenance and servicing.  Extensive testing done on all components of Rheem air conditioners ensures you will always have peace of mind. Air conditioners come with a standard 5 year warranty that, when registered, will be extended up to 10 years.
Though most commonly sold as single stage equipment, Rheem units do come in a two stage option.  Two stage air conditioning operation helps minimize utility bills while still providing the amount of cooling you need.  The compressor of a two stage air conditioner is able to run at two different speeds depending on the temperature required.
SEER
SEER is a rating for air conditioners that takes into account the amount of cooling delivered for the amount of electricity consumed.  An average new home air conditioner can be rated at a minimum of 13 SEER and up to 20 SEER.  Mini split air conditioning systems are capable of reaching 33 SEER!  Obviously, the higher the SEER rating, the more efficient your air conditioning will be.