High Velocity Air Conditioning
High velocity systems are a great option for many heating and cooling applications.  Is your home currently heated by a boiler? Does your home have certain features where traditional duct work is not an option?  High velocity air conditioning is now a cost effective, less mess, easier option to stay cool.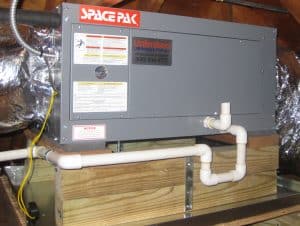 By using low volume, high velocity air these units create an ideal air conditioning experience.  Removing up to 30% more humidity than traditional forced air systems, you will feel more comfortable at a warmer temperature.  The high velocity air also helps create a more even air temperature throughout rooms.  These systems also use a lot less energy than having separate room air conditioners.
The air handler portion of the high velocity system is versatile and may be installed vertically or horizontally.  Featuring a low profile design, the unit can be installed in attics, crawlspaces and closets.  The air handler consists of a coil and blower compartments that are insulated to dampen sound.  A high efficiency blower motor helps move air evenly and quietly.
The 2″ tubing used to distribute the air throughout your home lends itself to simpler installation options. The tubing can fit down walls, or through joist spaces with minimal need for costly drywall repairs.  Pictured at right, the supply tubing is shown running down the back of a closet.  Smaller than traditional systems, this ducting takes up less room making it a great option for historic homes or places where architectural integrity is a must.  The design of this tubing also makes operation very quiet.  The outlets are sleek, unobtrusive and approximately the size of a compact disc.
As with traditional air conditioning systems, the air handler is connected to an air conditioner located outside.  For heating applications, the high velocity system can be connected to a heat pump or a boiler.  These systems can also be zoned to give more exacting comfort.  Separate floors can have their own thermostats for greater system control.